We're answering some of our most frequently asked questions about dumpster rentals in Oklahoma City and beyond. Scroll through to learn more about this process. If you don't see your question answered, please contact us. We'll help you find the information you need.
An Intro to Dumpster Rentals
What does "roll-off" mean? Is roll off the same as "dumpster"?
Short answer: they're the same thing. A roll-off or roll off container is the same as what you might call a dumpster. It's a rectangular box with no lid designed for you to toss your trash in. The open top allows you to throw away items that are too large for a household curbside trash cart. This means less time is spent breaking down items and more time is spent working.
Why do I need to rent a dumpster?
Some projects create a lot of debris, like roofing, new construction, remodeling, household clean outs, and neighborhood clean up days. We don't want you to have to wait and throw away a little bit at a time with your household weekly trash service. Don't let debris pile up! Get the right-sized container for your needs and we'll haul it off when you're ready.
Do you offer service to contactors?
Absolutely! CARDS provides dumpster service to contractors and other businesses that need regular clean-up in different locations. This includes everything from 10-yard containers all the way up to 53' trailers for your largest jobs. We'd be honored to be your solution to dispose of waste on job sites. Please reach out to us to get a quote and learn about your options.
Do you work with homeowners? What about neighborhoods?
You bet! CARDS provides dumpster service to homeowners doing remodeling projects, rennovations, big clean-outs (think "Grandma's house") and to neighborhoods looking to do a community clean up.
Do I need a permit to have a dumpster?
When you're on private property, such as cleanouts and construction, you generally do not need a permit to have a dumpster if it is for temporary service – meaning there's a rough end-date in sight. Please check with your city to be absolutely certain. If you call and tell us where you need service, we can also help you confirm if a permit is needed or not. If you are planning a neighborhood clean up day or plan to block the street or sidewalk, that is a different conversation and we'll help you navigate what you need to do for your dumpster rental.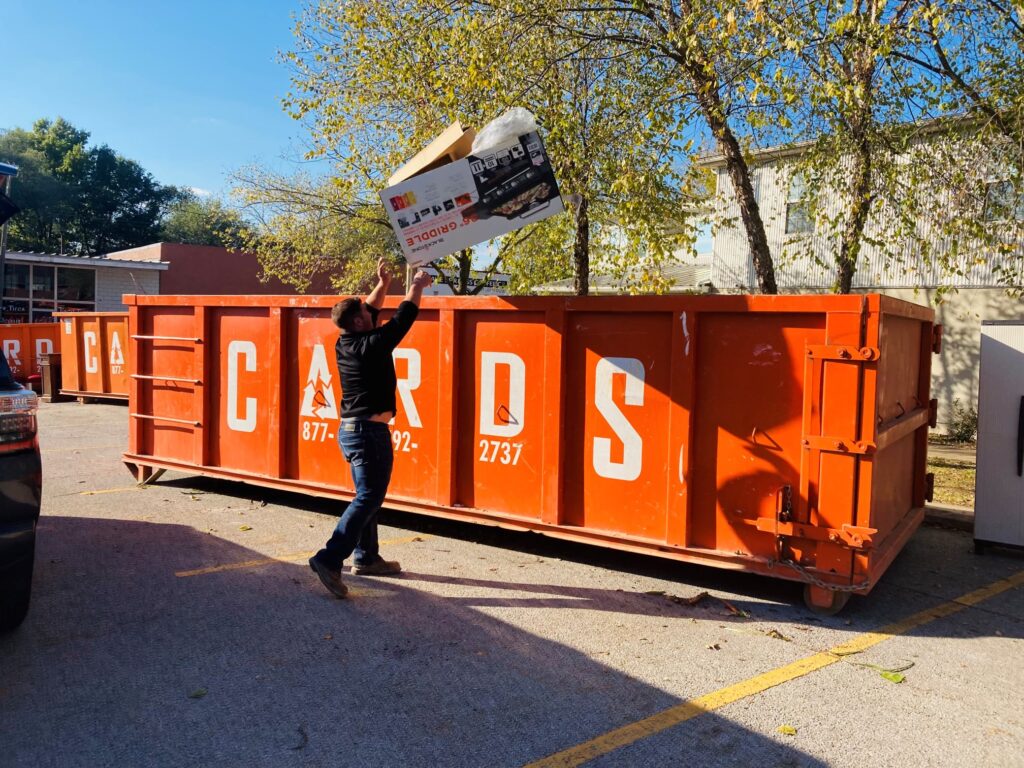 The Logistics
How much does a dumpster rental cost?
The best way to get a firm answer is to have a conversation with us because it varies. It's a combination of the size of the dumpster needed, the type of things you're throwing away, how much it weighs, and how long you need the container.
Can I rent more than one dumpster?
You can rent as many dumpsters as you need, but let's talk first and try to find you ways to save money. Give us a call and our customer service team will evaluate your needs and recommend the right size roll off container and service schedule.
Where do I place the dumpster?
We're going to help you choose the right spot. Our goals are pretty simple: safety and convenience. We want you to be safe, vehicles and pedestrians to be safe, and our driver to be safe about the placement of your container. We will default to a location that doesn't impede traffic and is also level and easy for our truck to get to so that service is quick and efficient. We also want to ensure that the placement of the container makes sense for you, is easy to access, and won't destroy your landscaping.
Can I put anything into my dumpster?
Almost. We still need you to keep tires and hazardous waste separate. This includes things like stains, varnishes, and paints, motor oil, pesticides, car batteries, items containing freon and more. If it says "Danger" on the label, it likely requires specialized handling and you must keep it separate to avoid creating a hazard. If it is toxic, flammable, corrosive, or reactive, please dispose at your nearest hazardous waste facility. Otherwise, give us a call to discuss the particulars of what you need to dispose of and we'll let you know if you can put it in the dumpster.
What can I do to get the best results with my dumpster rental?
Thanks for asking! We can handle most situations, but some recommendations are:
Make it easy for us to access your property for dumpster placement, service, and removal.
Don't throw away hazardous waste.
Don't allow anything to hang over the side or stick out of the top of the dumpster.
Let us know if you plan on throwing away anything of significant weight, like concrete, asphalt, stone, or bricks.
How do I get started?
Simple! Reach out to us and request a quote. We have a form on our Roll Off page linked at the button below. Fill that out and we'll be in touch soon.